Your gutters won't stay pristine looking forever. Over time, they will accumulate grime from being exposed to the elements.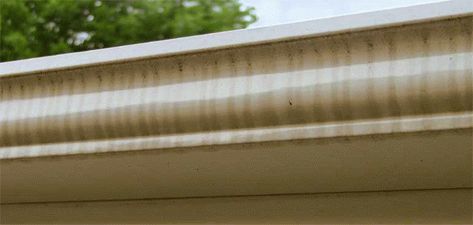 Having the exterior of your gutters cleaned can make a big difference in the appearance of your home, especially if it's been awhile since you have had them done.
We clean the exterior of your gutters with a soft brush and a gutter-safe non-bleach cleaner. Bleach works well to whiten your gutters, but it can drip down and bleach surfaces below your gutters such as decks and siding. It can also harm plant life.
We scrub your gutters with our special solution and then thoroughly rise them with water, restoring them to like-new condition.
Pricing:
First story* = $1.00 per linear foot
Second story* = $1.50 per linear foot
Third story* = $2.00 per linear foot
*All stories consist of no more than 12 feet in height. Example: If the gutters on the first floor of your home are 16 feet high, they will be considered second story.